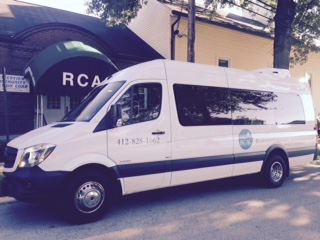 RCAC Bus Service Updated Schedule
Riverview Community Action Corporation (RCAC) bus service for all  Oakmont and Verona residents is back in operation.  Service is available by reservations Monday – Friday from 9:00 am –3:00 pm.  The following rules and  procedures are still in effect at this time.
Reservations must be made 24 hours in advance by calling 412-828-1062
4 people are allowed on the bus at a time.
Drivers may refuse service if they feel you are sick.
No one will be picked up without a reservation, no exceptions
Trips to the Center are $2.00 ROUND TRIP!!!
Please call us with your questions or more information at 412-828-1062
Did you know?????
That the Twin Borough Bus operated by Riverview Community Action Corporation, provides door to door service anywhere in the Boroughs of Oakmont and Verona.
The bus runs Monday through Friday 9:00 AM—3:00 PM.
Bus Rates
The rate for a one way trip will be $2.00 but we have also added the option of bus passes to help decrease the cost to our riders.  The bus passes are as follows:
1. 40 rides for $60.00—This is $1.50 per ride
2. 20 rides for $33.00—This is $1.65 per ride
3. 10 rides for $18.00—This is $1.80 per ride
Bus passes can be purchased from the front desk at RCAC.  The pass will need to be presented at the time of ride and if lost or you do not have the pass you will need to purchase a new pass and pay $2.00 for that ride.
OTHER RULES
1. THERE IS A 4 BAG PER PERSON LIMIT
2. PLEASE DO NOT EXPECT THE DRIVER TO CARRY YOUR BAGS TO THE DOOR.  IF THIS OCCURS IT IS A COURTESY AND THE DRIVER HAS THE TIME, IT IS NOT  A REQUIREMENT.
3. IF THE BUS DOES NOT ARRIVE AT THE EXACT TIME YOU REQUESTED, PLEASE BE  PATIENT.  IT ALSO WOULD BE VERY HELPFUL BY BEING READY 5-10 MINUTES BEFORE YOUR SCHEDULED TIME.  REMEMBER IF YOU ARE NOT READY, YOU MAKE OTHERS WAIT AND THE BUS LATE.
4. OUR DRIVERS CAN NOT WAIT FOR YOU TO 'RUN INTO' THE BANK OR DRUG STORE.