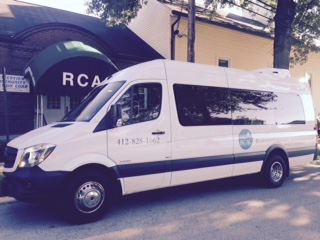 Did you know?????
That the Twin Borough Bus operated by Riverview Community Action Corporation, provides door to door service anywhere in the Boroughs of Oakmont and Verona.
The bus runs Monday through Friday 8:30 AM—4:00 PM.  It runs on the hour in Verona and on the half hour in Oakmont.
All you need to do is call 412-828-1062, at least one hour before you need transportation. 
Bus Rates
The rate for a one way trip will be $2.00 but we have also added the option of bus passes to help decrease the cost to our riders.  The bus passes are as follows:
1. 40 rides for $60.00—This is $1.50 per ride
2. 20 rides for $33.00—This is $1.65 per ride
3. 10 rides for $18.00—This is $1.80 per ride
Bus passes can be purchased from the front desk at RCAC.  The pass will need to be presented at the time of ride and if lost or you do not have the pass you will need to purchase a new pass and pay $2.00 for that ride.
Bus Schedule
Pick up – Oakmont:  8:30, 9:30, 10:30, 11:30, 1:30, 2:30, 3:30
                Pick up- Verona 9, 10 11, 1, 2, 3
Once again, we must emphasize the Twin Borough Bus rules.  
1. THE BUS WILL PICK UP/DROP OFFS AT THE PRESBYTERIAN HOME AT 9:30 AM, 11:30 AM AND 2:30 PM.
2. STARTING NOW,  IF YOU WALK OR GET A RIDE TO GIANT EAGLE, PLEASE CALL AND LET US KNOW YOU WILL NEED A RIDE HOME.
3. YOU MUST CALL AT LEAST 1 HOUR BEFORE YOU NEED THE BUS TO PICK YOU UP.
4. THERE ARE NO BUSES AT NOON OR 12:30 PM
5. THE LAST BUS LEAVES GIANT EAGLE AROUND 3 PM
6. THERE IS A 4 BAG PER PERSON LIMIT
7. PLEASE DO NOT EXPECT THE DRIVER TO CARRY YOUR BAGS TO THE DOOR.  IF THIS OCCURS IT IS A COURTESY AND THE DRIVER HAS THE TIME, IT IS NOT  A REQUIREMENT.
8. IF THE BUS DOES NOT ARRIVE AT THE EXACT TIME YOU REQUESTED, PLEASE BE  PATIENT.  IT ALSO WOULD BE VERY HELPFUL BY BEING READY 5-10 MINUTES BEFORE YOUR SCHEDULED TIME.  REMEMBER IF YOU ARE NOT READY, YOU MAKE OTHERS WAIT AND THE BUS LATE.
9. BETWEEN 10:30 & 11, OUR DRIVER ALSO DELIVERS MEALS TO MUNROE AND DEMOR TOWERS.
10. WE WILL ONLY TAKE 6 CALLS/TIME SLOT.
11. OUR DRIVERS CAN NOT WAIT FOR YOU TO 'RUN INTO' THE BANK OR DRUG STORE.
12. IF THE BUS SHOULD DRIVE BY YOU, IT IS MOST LIKELY DUE TO THE FACT THAT THE BUS IS CURRENTLY FULL.